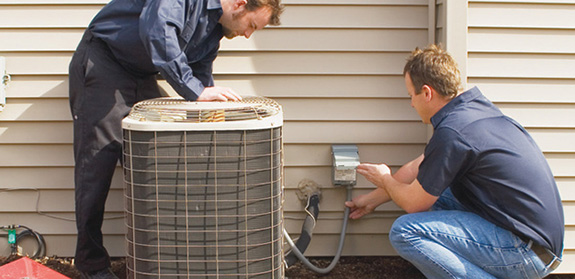 With more than 25 years of experience under our belts, AFCO Heating & Air Conditioning, Inc. should be your first choice when you need HVAC repair in Staten Island, NY. Our team can ensure your HVAC system and plumbing needs are taken care of promptly, affordably and dependably, and we're committed to offering our HVAC repair services at affordable prices. Here's what we can do for you:
Heating and air conditioning: If you need HVAC repair in Staten Island to figure out why your home or business isn't staying warm, give us a call. We're able to handle any and all heating repairs, perform basic maintenance tasks and even install new systems. And if it's a service we offer for heating, we offer the same for air conditioning. Let us help you stay comfortable!
Water heaters: You won't find a more reliable source of hot water heater repairs, maintenance services and installation in Staten Island. No matter what time of the year it is, you need hot water for cleaning, cooking and bathing, and there's nothing quite like a lack of hot water to throw your day into a tailspin. Call us 24/7 for any repairs you may need.
Emergency Plumbing Services: We also offer our 24-hour emergency plumbing services. If you have a leak, a clogged drain, a backed-up toilet or any other plumbing-related trouble, don't hesitate to call AFCO Heating & Air Conditioning to get things fixed in a hurry.
We're pleased to offer a variety of HVAC and plumbing services to our residential and commercial customers. Call us today if you're having issues with any of the following:
Commercial and residential HVAC service
Boilers & furnaces
Heating & air conditioning repair service
Central AC units installation/service
Clogged drains
Water heater
Leak repair
For top-notch heating and cooling services, contact AFCO Heating & Air Conditioning, Inc. at 718-494-1616 to schedule an appointment or learn more about what we can do for your home or business's heating and air conditioning service.